I'm excited to share my new story – my very first venture into contemporary romance! It's called YOURS FOR THE WEEKEND, and it's a Novella that is part of a series with 12 other authors called Indulgences!
Find out what happens when millionaire businessman Brody Davidson hires sexy grad student Amanda Foster to be his pretend date for a destination wedding,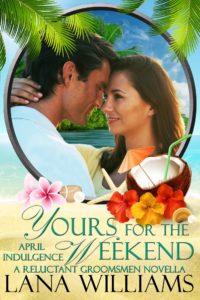 only to realize he wants her forever!  Available now on Amazon and FREE for Kindle Unlimited/Amazon Prime Members!
Blurb: When successful businessman Brody Davidson is asked to be groomsman for yet another friend and learns his ex-girlfriend will be maid of honor, he does what any desperate millionaire would do–he hires a date. Convincing the sexy waitress with mile long legs to agree to play his girlfriend is no easy task, despite his promise to her and himself that it's strictly business. He's determined to make all decisions with his head instead of his heart to avoid being hurt again.
No matter how many times Amanda Foster runs the numbers, her final year of graduate school will have to wait. She's already in debt up to her eyeballs. Though she's learned not to trust guys in suits, how can she say no to spending spring break at the exclusive Indulgences Resort with a ruggedly handsome guy while getting paid for it? Pretending to be Brody's girlfriend will be no hardship–as long as she remembers it's just pretend, but her attraction to him is all too real.
Amanda's already gotten under Brody's skin. Can he convince her their deal is far more than business, and that he wants her forever, not just the weekend?
Here's a little more about the series. Escape to what has been named the most magical destination on the planet. Our boutique reading resort is located in the lush rain forest, just 200 feet from the radiant beaches of Aragon Island, off the shores of Panama. Here, your mind, body, and soul can't help but relax and become one with nature. Step inside to experience unique fantasies that will fulfill your every reading pleasure. We have a special FB Group set up just for this series and have all kinds of contests and prizes and conversation. Come and join us! https://www.facebook.com/groups/719439014873659/
Thirteen authors have joined together to bring you a unique reading experience, sharing stories of different people who come to Indulgences Resort to live out their fantasy.
This island is not just a beautiful place but also has magical secrets. Each fantasy will come to life, taking the guests on an adventure that just might change the rest of their lives.
Each book is a standalone, but we invite you to read them in order, beginning with:
Indulgences, The Prologue by Hildie McQueen – A FREE short read.
Hearts Adrift by Ciara Knight – January.  A second chance at true love for childhood sweethearts lost in the past, but hopeful for the future. Heat level 3
A Game of Hearts by Tigris Eden – February.  Best friend since childhood, Zori and Matteo traveled to Paradise and try their hand at A Game of Hearts. Heat level 5
Watching Mia by Olivia Gaines – March.  A sexy bartender serves as a catalyst to put a spark back into a struggling marriage, Heat level 3
Yours for the Weekend by Lana Williams – April.  A millionaire businessman hires a date for his friend's wedding, only to realize a weekend with the sexy grad student won't be enough. Heat level 3.5
Cowboy in Paradise by Hildie McQueen – May.  Years after losing the love of his life, a cowboy may find it again in Paradise. Heat level 3+
Undertones by Xyla Turner  – June.  Two scarred strangers meet to find a fantasy that only the other can fulfill. Heat level 4
Summer in Paradise by J.D. Monroe – July.  On the job in an island paradise, two old high school friends get a second chance at true love. Heat level 3
Double Jeopardy by KaLyn Cooper – August.  Saving the lives of a billionaire and his wife gives their bodyguards a second chance at love. Heat level 3+
Take Me Away by Allie K. Adams – September.  Sometimes your worst enemy is your greatest ally. Heat level 3
Midnight's Kiss by Victoria Zak/D.L. Roan – October.  An unexpected fantasy ignites a love that lasts forever. Heat level 4
So Great a Love by T.M. Cromer – November.  An estranged couple reunited in Paradise will either rekindle their passion or be forced to move on from what could be the love of a lifetime. Heat level 3
Hired Heart by Elizabeth Rose – December.  A Scrooge of a businessman and his sexy coworker end up in Paradise where business takes a backseat to pleasure. Heat level 3.
Happy Reading!
Lana