Boxed sets are a great way to try new authors and catch up on some binge reading. RESTLESS HEARTS is a special collection of five full-length historical romance novels and is available for a limited time for only $.99!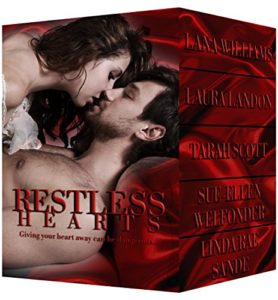 Now available on Amazon! Kindle Unlimited subscribers read free!
Giving away your heart can be dangerous…
CHARMING THE SCHOLAR by Lana Williams
A reclusive scholar
A charming lady
An undeniable love
Oliver, Viscount Frost, must end his reclusive ways to uncover the mysteries of an ancient text used by a ringleader of professional thieves. He emerges from his books only to find Lady Julia Hopwood blocking his path.
Julia's friendly nature and charming smile hide her desperate efforts to keep her father from succumbing to melancholy and illness. The purchase of an old book for his collection is her latest attempt to brighten his spirits. When the gruff viscount demands she hand it over, she refuses, even when it plunges her into a shadowy side of London she barely knew existed.
Passions rise as the pair cross paths, each hiding secrets even as they share stolen kisses. Julia is drawn to the solemn scholar, wanting to ease the unhappiness she senses inside him. Can Oliver release his demons to help Julia or will their secrets keep them apart?
JADED MOON by Laura Landon
Ross Bennett, Marquess of Rainforth, turned his back on Society—just as they turned their backs on him. But anonymity was short-lived, because the mistress with whom he'd parted amicably five years earlier had borne him a child he hadn't known existed.
Josephine Foley must protect the orphaned children at all costs. But when a known rake comes looking for his child, she has to stall, even though holding him at bay is the hardest thing she's ever done. Because the closer she comes to losing her heart to Ross, the closer she comes to being hanged.
THE EPIPHANY OF AN EXPLORER by Linda Rae Sande
A man only gets one chance to find his Aphrodite … but what if she finds him first?
When archeologist Dr. Stewart Jones goes missing and is feared dead, explorer Harold Tennison, Earl of Everly, is pressed into service to find him.
On his last visit to Delos, Harry was blessed with a visit from a young woman—his very own version of Aphrodite rising from the sea to regard him with an arched eyebrow and a simple question that left him so discombobulated, he could barely speak.
Born of a Mykonian mother and a British duke, Lady Estelle isn't comfortable in either world. With her father's recent disappearance and no prospects for marriage, Stella may end up stranded on Mykonos. She spends her days assisting her uncle in his hunt for Greek treasures he can sell to visiting Europeans. At night, she remembers the bespectacled earl who nearly broke her foot during a waltz back in London.
When Harry arrives on Mykonos to begin his hunt for the duke, he'll have to learn far more about mythology, antiquities, and Greek goddesses than he bargained for. The search may be worth it, though, but only if he ends up with his very own Aphrodite.
LORD GRAYSONS BRIDE by Tarah Scott
Nicholas Spencer, Earl of Grayson, won't make the same mistake twice and let Josephine Knightly go. She loves him. He felt it in their one kiss before he left, and in the single kiss she allowed since his return. But she's doing everything in her power to sabotage the marriage even before it's begun. Nicholas doesn't care. If Hell is where he must live to have her, then she must stand by his side in the fire.
THE TAMING OF MAIRI MACKENZIE by Sue-Ellen Welfonder
Mairi MacKenzie can bring the dead back to life but it is an unbearable curse. She hides away in the Glen of Winds, allowing folk to believe she's a banshee.
Once counted among Scotland's greatest warriors, Sir Gare MacTaggert hasn't lifted a sword in years because of a battlefield tragedy that broke his soul. Now he must marry, yet can't wed any woman, dead as he is inside. He seeks the banshee's aid to restore his will to live. But together they must face a greater challenge: the forbidden love that could destroy them.
Happy Reading!
Lana