I'm excited to share that LOVING THE HAWKE, Book 1 of The Seven Curses of London, is now available on all major platforms!
Now is a great time to catch up on this series as more books are coming soon!  This book shares the story of Lettie and Nathaniel, a wallflower and a wounded war hero…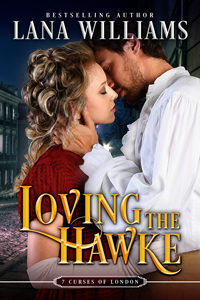 After five seasons as a wallflower, Lettie Fairchild is resigned to spinsterhood. Mostly. Determined to claim more meaning for her life than seeing her younger sisters married, she seeks a purpose. She finds what she's looking for when she happens upon a book describing seven curses that plague London.
Nathaniel Hawke is attempting to adjust to civilian life after retiring from the military, but his injured leg and memories of his time in the service prevent an easy transition. On his long walks during London's darkest hours, Nathaniel is appalled by what he sees taking place on the dirty streets and alleyways. He is determined to take action. Coming upon a proper, if rebellious, lady in the desolate area both intrigues and frustrates him.
Nathaniel's disregard for his personal safety infuriates Lettie even as her heart is touched by his determination to aid the city's neglected children.
As the two wounded souls stumble upon each other time and again in slums and ballrooms, they realize they fight a common cause—and share an unbridled passion.
Will the curse they fight be their downfall? Or will love win the day?
Now on:
Stay tuned for exciting news coming next week!
Happy Reading!
Lana