I'm thrilled to share with you my very first Regency Romance, ROMANCING THE ROGUE, which releases today, July 28th – on my birthday!
This book is part of a very special series entitled REGENCY RENDEZVOUS. Twelve books released twelve days in a row. A list of the books is noted below and they're all available exclusively on Amazon. Read them all for free on Kindle Unlimited!
ROMANCING THE ROGUE
One enchanted evening.
One irrevocable moment.
Two lives changed forever.

Caroline Gold is desperate to save her family from financial ruin with a proposal from a wealthy duke. But one misstep has her engaged to the wrong man–Richard Walker, the Earl of Aberland, a handsome but cynical rogue with barely a farthing to his name.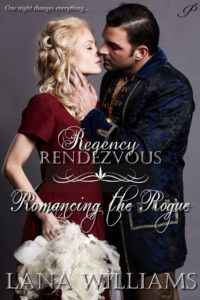 Richard spies for the Crown under the guise of a wastrel rogue and seeks revenge for a fallen comrade killed by a notorious villain. Offering for the beautiful Caroline creates an unwelcome distraction. Yet the desire he finds with her makes him wonder if a life–and love–is possible…but only after he claims justice.
Caroline quickly sees there is more to Richard than expected, and his kindness toward her ailing father melts her heart. Yet marrying Richard won't save her family despite the consuming passion she discovers in his arms.
A French spy posing as an English lord is on the loose. Can Richard unveil the man's identity and stop him before he destroys all Richard holds dear, including Caroline?

All reviews, however long or short, are greatly appreciated. Here's a list of the upcoming books:
Book 1 –  The Devil of Montlaine by Claudy Conn
Book 2 – The Blue Drawing Room by Carmen Caine
Book 3 – The Archaeologist's Daughter by Summer Hanford
Book 4 – Ice and Embers by Melanie Karsak
Book 5 – The Illusive Lady Winston by Layne Pimentel
Book 6 – Wreck and Ruin by Amy Corwin
Book 7 – The Earl's Encounter by Wendy Vella
Book 8 – P.S. I Loathe You by Diane Darcy
Book 9 – Romancing the Rogue by Lana Williams
Book 10 – The Stablemaster's Daughter by Barbara Devlin
And more to follow! Find them all on Amazon!
We'll be celebrating the releases with a Facebook Party on August 4th and 5th. Please join us for fun, prizes, and lots of books!
Happy Reading!
Lana