At long last, I'm so excited to share that A KNIGHT'S TEMPTATION, Book 2 of The Falling For a Knight Series, is coming on November 7, 2017! Readers have been asking for this book and I'm very happy to say that it is officially in my upcoming release schedule!
The first story in this series is A KNIGHT'S CHRISTMAS WISH, a novella which begins this new generation of the de Bremont family from The Vengeance Trilogy stories. The first full-length book is A KNIGHT'S QUEST, and next will be A KNIGHT'S TEMPTATION. Braden's story has been calling to me since I introduced him in A KNIGHT'S QUEST. I'm really enjoying being back in medieval times.
Here's a little more to tempt your palate.
An English Knight…
Sir Braden de Bremont guards his secret gift, keeping others at arm's length, trusting no one outside of his family. When he's injured during a mission in Berwick, Scotland, he's forced to remain until he heals, while protecting a lady from a powerful lord determined to kill her family as a warning to others with English ties.
A Scottish Lady…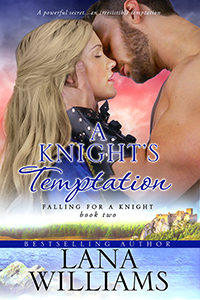 Lady Ilisa Douglas is haunted by the terrible events she witnessed during the attack on Berwick when thousands were killed. She now trusts no one, especially English knights. Yet the exact kind of man she's learned to fear is the only one who steps forward to protect her from a murderous plot. Secretive yet bold, handsome and strong, Braden has Ilisa questioning all she once believed with his gentle embrace and passionate kisses.
An irresistible temptation…
In order to expose the lord willing to kill for his cause, Braden and Ilisa agree to marry in name only to attend the lord's upcoming gathering. Feigning the part of an attentive husband to the beautiful lady who tempts him with her cautious smiles and tender touch is no hardship for Braden but makes it nearly impossible to keep his secret. Ilisa knows more than her heart is at stake in this terrible game, for if they fail, the King of England will march again on Scotland.
I can't wait for you to read this one! Preorder it now!
Happy Reading!
Lana