TEMPTING THE SCOUNDREL is now available for only $.99! This novella is Book 5 of The Seven Curses of London and was previously published as part of the HER MAJESTY'S SCOUNDRELS box set. If you haven't yet read it, now's your chance!
Labeled as a wicked scoundrel by Society, Elliott Walker, the Earl of Aberland, does nothing to deny the outrageous rumors that blacken his reputation. In truth, he leads a double life, working for British Intelligence both in London and abroad. He's returned home from a lengthy mission to find an unexpected addition to his household, upsetting the careful balance of his secret life and tempting him in ways he never dreamed possible.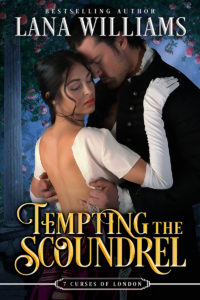 Sophia Markham, the daughter of an impoverished viscount whose wastrel ways broke her mother's heart, was raised by her bitter spinster aunt. Sophia knows there are grave consequences to trusting men, especially rogues. When her aunt dies, Sophia finds a position as a companion in London, determined to avoid marriage at all costs.
While Elliott would grant any wish to the grandmother he loves so dearly, he has no choice but to frighten away her beguiling new companion by playing the scoundrel. Having a set of beautiful hazel eyes watching his every move puts his hidden identity at risk.
Sophia is shocked at her attraction to the handsome earl, the exact type of man she's been taught not to trust. But she can't ignore the evidence–or her heart–that suggests there's more to Elliott than meets the eye. Dare she trust him and his kisses? Or are his secrets deadlier than she could ever imagine?
Coming soon to iBooks, Google, and in paperback.
Hope you enjoy Sophia and Elliott's story!  And remember, authors love reviews!! 🙂
Happy Reading!
Lana